In 2013, to mark the bicentenary of the birth of Charles Valentin Alkan (1813 - 1888), Stephanie McCallum released a two-volume collection of Alkan's five books of Chants
with Toccata Classics
Written over a fifteen-year period from 1857 to 1872, Alkan's five collections of Chants provide a more nuanced and intimate insight into his music than the epoch-making Studies Opus 35 and Opus 39. The first book, Opus 38 (1857) pays homage to Mendelssohn, preserving the key sequence and referring to some of the genres of the first book of Mendelssohn's popular Songs with words, opus 19b. Alkan returned to the same key sequence and genres four more times as though returning to find different solutions to a set of compositional problems.
Volume 1 contains Books 1 and 2, Opus 38 (1857), Book 3 , Opus 65 (1866),as well as the remarkable and previously unrecorded piece, Une fusée, Opus 55 (1859).
Volume 2 contains Book 4, Opus 67 and Book 5, Opus 70, Deux Nocturnes, Opus 57, Deux Petites Pièces, Opus 60: Ma Chère liberte, Ma chère servitude, Désir. Fantaisie, Chapeau bas! Seconda fantasticheria (first recording).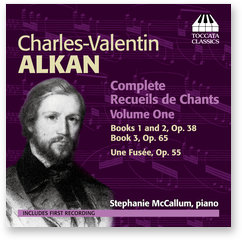 Volume 1
Premier recueil de chants, Op. 38 (1857) 19:28
[1] 1. Assez Vivement: Largement quoique assez vif 4:28
[2] 2. Sérénade: Quasi-allegretto 2:44
[3] 3. Chœur: Allegro 2:49
[4] 4. L'offrande: Andantino (Quasi-scampanio- Ingenuamente) 2:41
[5] 5. Agitatissimo: Agitatissimo (disperato) 3:44
[6] 6 .Barcarolle: Andante 3:02
Deuxième recueil de chants, Op. 38 (1857) 25:14
[7] 1. Hymne: Adagio 5:00
[8] 2. Allegretto ('Fa'): Allegretto 3:12
[9] 3. Chant de guerre: Allegro 3:41
[10] 4. Procession-Nocturne: Andantino 3:40
[11] 5. Andantino: Andantino 5:46
[12] 6. Barcarolle en chœur: Andante 3:55
Troisième recueil de chants, Op. 65 (c. 1859) 19:01
[13] 1. Vivante: Vivante 3:04
[14] 2. Esprits follets: Prestissimo 2:00
[15] 3. Canon: Assez vivement-Assez doucement 2:27
[16] 4. Tempo Giusto: Tempo giusto 4:20
[17] 5. Horace et Lydie: Vivacissimo 3:48
[18] 6.Barcarolle: Assez lentement 3:22
[19] Une fusée: Introduction et Impromptu, Op. 55 (1859) 7:31 [First recording]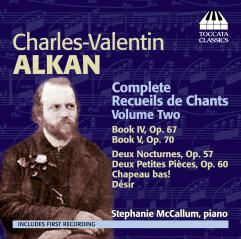 Volume 2
Quatrième Recueil de chants, Op. 67 (c.1868) 22:30
[1] 1. Neige et Lave 2:58
[2] 2. Chanson de la Bonne Vieille 3:04
[3] 3. Bravement 3:03
[4] 4. Doucement 2:58
[5] 5. Appassionato 3:45
[6] 6. Barcarolle 6:42
Cinquième Recueil de chants, Op. 70 (c.1872) 25:36
[7] 1. Duettino 3:54
[8] 2. Andantinetto 2:38
[9] 3. Allegro vivace 3:23
[10] 4. La Voix de l'Instrument 2:48
[11] 5. Scherzo-Coro 6:00
[12] 6. Recapitulation-Barcarolle 6:53
Deux Nocturnes, Op. 57 (1859) 9:57
[13] No. 1 Andantino 6:39
[14] No. 2 Très vif 3:18
Deux Petites Pièces, Op. 60 (1859) 9:48
[15] No. 1 Ma Chère Liberté – Focosamente
ma Sostenuto molto – Quasi Scherzando 4:28
[16] No. 2 Ma Chère Servitude – Poco lento 5:20
[17] Désir. Fantaisie (1844) 3:14
[18] Chapeau bas! Seconda fantasticheria (1872) 8:14 [First Recording]