Stephanie McCallum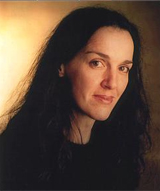 Hailed by London HiFi News and Record Review as
"a formidable and insightful pianist"
, Stephanie McCallum has had an international career as concert and recording artist. She plays a wide range of music from the eighteenth century to the present day, making a particular specialisation of the virtuosic music of Liszt and Alkan and of demanding contemporary scores.
Her recordings
include 20 solo CD albums and she is featured on over forty ensemble and compilation discs. An Associate Professor in piano at the Sydney Conservatorium of Music, University of Sydney, she has performed extensively in the United Kingdom, Australia and Europe. more about Stephanie McCallum ...
Read More >>
LATEST RECORDINGS

Released September 2021
Romantic French duets performed with Erin Helyard on an 1853 Erard piano

Released October 2019
Roy Agnew: Piano Music
on Toccata Classics
Neglected music by a major Australian composer who achieved international recognition in his day.
REVIEWS
Four Hands for France TOCN0007
'The only word for the performances of Stephanie McCallum and Erin Helyard is "perfection"..
William Kreindler in MusicWeb International
Alkan Chants TOCC 0157:
"Stephanie McCallum joins the small but august cohort of performers including Ronald Smith, Raymond Lewenthal, and Marc-Andre Hamelin, who dare to bring Alkan's strange, mannered, but entirely gratifying music to a wider public. Her performance is brilliant".
Mark DeVoto, Classical Ear