Fur Elise: Bagatelles for Piano by L. V. Beethoven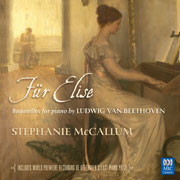 Für Elise: Bagatelles for Piano by Ludwig Van Beethoven
Stephanie McCallum
The score for the recently-discovered Piano Piece in F minor, which is probably Beethoven's last piano work, and which has its first recording on this disc, can be purchased from inter-note.
"Pleasant little piano piece may be Beethoven's last work". Sydney Morning Herald, 5 September, 2008
"Scholar finds `Beethoven's last piano work' in library" The Independent. 9 September, 2008
This disc, released in August 2008, contains Beethoven's three published sets of Bagatelles, opus 33, opus 119 and opus 126 as well as nine other short pieces in a similar style, ranging from the WoO 59 in A minor, better known under the title of Für Elise, to the Waltz and Ecossaise, WoO 85 and 86, which Beethoven wrote as a charity gesture for a disabled actor in 1826 and which were the last published piano pieces that he wrote. The set concludes with a dip into Beethoven's last sketchbook, the Kullak sketchbook. Stephanie plays a series of short snippets from this sketchbook, each of interest in its own right, and prepared for performance by Stephanie's husband, the musicologist, Peter McCallum. The last of these, is a simple attractive short piece in F minor and is believed by Peter to be the last piano piece that Beethoven wrote. It is recorded here for the first time and has now been published by inter-note.

| | |
| --- | --- |
| 1. | Seven Bagatelles, Op. 33 |
| 2. | Bagatelle in A minor, WoO 59 'Für Elise' |
| 3. | Bagatelle in C major, WoO 54 |
| 4. | Allegretto in C major, WoO 56 |
| 5. | Presto in C minor, WoO 52 |
| 6. | Eleven Bagatelles, Op. 119 |
| 7. | Six Bagatelles, Op. 126 |
| 8. | Bagatelle in B-flat major, WoO 60 |
| 9. | Allegretto in B minor, WoO 61 |
| 10. | Allegretto quasi andante in G minor, WoO 61a |
| 11. | Waltz in D major, WoO 85 |
| 12. | Ecossaise in E-flat major, WoO 86 |
| 13. | From the Kullak sketchbook: Piano Piece in A major |
| 14. | From the Kullak sketchbook: Piano Piece in C-sharp minor |
| 15. | From the Kullak sketchbook: Piano Piece in E-flat major |
| 16. | From the Kullak sketchbook: Piano Piece in F minor |