STEPHANIE MCCALLUM: BIOGRAPHY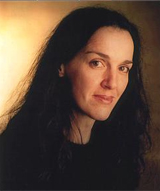 Described by Anthony Clarke in The Bulletin as 'one of Australia's foremost pianists', Stephanie McCallum enjoys an international career, appearing on over forty CDs (including 22 solo discs) as well as making live solo and concerto performances. Playing a repertoire from the eighteenth to the 21st century, she is especially noted for her performances of virtuosic music of the nineteenth century, particularly the music of Liszt and Alkan, and also for her advocacy of demanding contemporary solo and ensemble scores.
Stephanie McCallum is Associate Professor in piano at the Sydney Conservatorium of Music of the University of Sydney, where she herself studied with Alexander Sverjensky and with the noted Liszt player, Gordon Watson. After advanced studies in England with the Alkan authority Ronald Smith, she made her Wigmore Hall debut in 1982, when she gave what is believed to be the first performance of Alkan's Chants, Op. 70. She is also credited with the first complete performance of Alkan's Trois Grandes Études, Op. 76, in London. Her live performances of the Concerto, the Symphony and other works from Alkan's Douze études dans les tons mineurs, Op. 39, have been described by critics as 'titanic', 'awe-inspiring', 'stupendous' 'virtuosic pianism of the highest calibre' and 'one of the glories of Australian pianism'.
Stephanie McCallum has appeared extensively as a soloist in Australia, France and the United Kingdom, and has toured Europe with The Alpha Centauri Ensemble. She has made many appearances as soloist in the Sydney Festival, and performed in the Brighton, Cheltenham, Huddersfield, Adelaide and Sydney Spring festivals. A noted exponent of contemporary music, she was a founding member of the contemporary ensembles AustraLYSIS and Sydney Alpha Ensemble and was joint artistic director of the latter from its inception. She has performed as soloist with major Australian symphony orchestras and in ensemble with Australian Opera and Ballet Orchestra, Australian Chamber Orchestra, Elision and the Australia Ensemble. She appears in ensemble on many CDs as well as soloist on two discs by the Sydney Alpha Ensemble: Strange Attractions and Clocks, featuring works of Elena Kats-Chernin. In 2000 she gave the world premiere of Kats-Chernin's Displaced Dances with the Queensland Symphony Orchestra, a piano concerto written especially for her (available with the Adelaide Symphony Orchestra on ABC Classics 4816430).She also performs on historic eighteenth- and nineteenth-century instruments and has recorded piano-duet music by Alkan, Meyerbeer and Moscheles on instruments from Amsterdam's Maison Érard with Erin Helyard.
Her solo recordings include a two-disc set of the complete piano sonatas of Weber; Illegal Harmonies: The 20th-Century Piano; Perfume, a best-selling disc of rare French piano music; two CDs of music by Liszt, The Liszt Album and From the Years of Pilgrimage; and an album of piano works by Erik Satie, entitled Gymnopédies. With the release in 2006 of a two-CD set of Alkan's Douze études dans les tons mineurs, she was the first pianist ever to have recorded both of Alkan's sets of studies in the major and the minor keys, Opp. 35 and 39. Further releases include A Romantic Christmas, an album of Schumann's piano music, Scenes from Childhood, including the Fantasie in C major, Op. 17, and a Beethoven premiere recording – Für Elise: Bagatelles for piano by Ludwig van Beethoven. This disc contains a Bagatelle in F minor, probably the last piano piece that Beethoven wrote, and never previously published, performed or recorded. Her recording of the complete Alkan Recueils de chants for Toccata Classics (TOCC0157 and 0158) was received with universal praise: CD Review on BBC Radio 3 felt that the music was 'really exquisitely played by Stephanie McCallum, who really "gets" the style' [....] if you really want to get to know what this Alkan guy is all about, then Stephanie McCallum can really show you very well indeed'. She followed up these Alkan recordings with a Toccata Classics album dedicated to the piano music of Guy Ropartz (TOCC0326), about which Fanfare was equally enthusiastic: 'Stephanie McCallum has given us a close-to-ideal first hearing of these works. She has an extraordinary dynamic range, a keen awareness of harmonic tension and resolution, an expansive approach to rubato, and a sophisticated understanding of Ropartz's large-scale structural organization'.
Recently Australian solo piano music of Roy Agnew TOCC0496 and violin and piano sonatas of Fritz Hart (with Susan Collins) TOCC0470 have appeared, and ollowing on from the 2018 release of Alexandre Boëly Piano Music Volume 1 TOCC0471 containing all premier recordings on an original 1853 Parisian Erard piano, a further disc of French duets with Erin Helyard has been released using the same wonderful historic instrument.