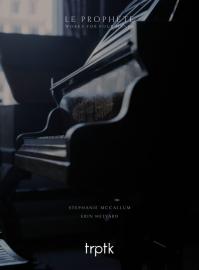 Le Prophète: music for four hands. TTK0005 Stephanie McCallum and Erin Helyard
Recorded in Frits Janmaat's Maison Erard in Amsterdam, this disc presents music for piano four hands of striking textural and musical originality on historic Erard pianos (1839, 1847 and 1898) each dating from within a few years of the date of composition of the work recorded on it. The pianos have been restored to superb playing condition by one of the world's leading authorities on Erard pianos, Frits Janmaat and recorded in super-audio CD format by Brendon Heinst on the innovative audiophile label trptk. The partnership of outstanding performers, expert restorer and cutting-edge sound allows listeners to hear the sounds from the composers' day as never before.
The only way to listen to the latest symphony or opera in the nineteenth century was to either seek out a live performance or perform it at home with a piano partner, à quatre mains. Thus, an enormous amount of four-hand literature abounds from the 1820s to the 1930s. Works in transcription largely dominate this repertoire: operas, symphonies, and chamber works were adapted en masse for four hands by skilled and not so skilled musicians alike. But there were also works freshly composed in the medium, and four-handed playing could be heard in the home (its natural environment) but also on the relatively new environment of the concert stage. The ubiquity and popularity of the four- handed format meant that it crossed national, social, and economic boundaries. As such, the piano duet was a powerful cultural site in which anxieties about gender, nationality, labour, and pleasure were writ large. Adrian Daub in Four- Handed Monsters: Four-Hand Piano Playing and Nineteenth-Century Culture has brilliantly surveyed nineteenth-century and early twentieth-century novels for traces of how the piano duet interacted with those who played and listened to them. Daub argues on the strength of a rich and provocative bed of primary literature that four-hand piano playing theatricalised nineteenth-century issues of subjectivity, community, eroticism, nationalism, and consumerism. One of the most compelling arguments in Four-Handed Monsters is Daub's exploration of how four-hands music had a particular and especial relationship to consumption and commodification. Certainly, as the "proto-CD of nineteenth- century domestic culture," four-hand music was mass-produced and consumed eagerly. The nineteen-year-old Friedrich Nietzsche's Christmas wish- list in 1863, for instance, reads "(1) The Grand Duo by F. Schubert, arranged for four hands; (2) Düntzer's edition of Goethe's lyric poems." Four-handed music and its performance was undoubtedly one of the important and influential components of nineteenth-century transnational musical culture. One would argue that it could be considered the most pervasive and important, by dint of its widespread agency.
Overture to the opera Le Prophète
Giacomo Meyerbeer (1791-1864) arranged for piano four hands by Charles Valentin Alkan (1813-1888)
9 Préludes, Opus 66 (originally for pédalier)
Charles Valentin Alkan (1813-1888), transcribed for piano four hands by José Vianna da Motta (1868-1948)
Prélude No. 1 - Moderamente
Prélude No. 2 - Andantino
Prélude No. 3 - Allegro moderato
Prélude No. 4 - Tempo giusto
Prélude No. 5 - Quasi adagio
Prélude No. 6 - Andantino
Prélude No. 7 - Alla giudesca
Prélude No. 8 - Lento
Prélude No. 9 - Adagio
Homage à Weber, Opus 102
Ignaz Moscheles (1794-1870)
Allegro vivace
Andantino con moto
Allegro vivace